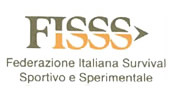 The F.I.S.S.S. (Italian Federation of Sports and Experimental Survival) was founded in 1986 following an idea of Enzo Maolucci and of the members of the I.S.A. who, after having made the first survival races, have promoted the establishment of this federation that brings together the most important national associations and schools and which led to the formulation of the first disciplinary regulation for competitions, courses and federal exams in the survival environment.
F.I.S.S.S. autonomously indexes training courses and exam sessions for the establishment of Survival and Outdoor instructors, to which it issues a specific license that allows registration in the appropriate Register of Category.
Since 2001 the F.I.S.S.S. collaborates with the Faculty of Motion Sciences of Turin.
Further information related to F.I.S.S.S. can be found on the Federation website.