CELEBRATONS AT SALGARI CAMPUS, SPORT, NATURE, ADVENTURE for adults and children.
Also in Autumn!
The Salgari Campus offers over 120.000 square meters of wood equipped with a large covered area for the buffet to celebrate birthdays, celibacy / hen parties, theme parties or simply new unforgettable occasions to have fun together.
Several and diversified activities are available that can be agreed according to the age of the participants and with various levels of difficulty.
Participants will be involved in recreational and sports activities, moments of socialization and relaxation in a natural environment, in complete safety and with the assistance of experienced instructors and animators in outdoor.
What you can do at the Campus: shoot with the bow, follow the rope passages suspended among the trees, explore the labyrinths, try the descent on cable with pulley up to 100 meters of length.
Changes to the program are possible based on your requests or at our discretion based on the number, age of participants and weather conditions.
Want to make the experience even more special? Ask us for the FIRE AREA with dedicated staff.
CATERING: a catering for parties and more is available on request.
For reservations, estimates and availability contact us by phone at the num. +39 393 860 9020 or by e-mail to info@salgaricampus.it
TIMETABLES:
Monday to Friday:
from 4.30pm to 7.30pm; in the summer, also in the evening, time to be agreed.
Costs starting from € 200.00 (with optional fire area).
Saturday:
three time slots possible with fire area included:
11.00-14.00, 15.00-18.00, 18.00-21.00
Costs starting from € 250.00
Sundays and holidays:
three possible bands 11.00-14.00, 15.00-18.00, 18.00-21.00
Costs: in coexistence with themed events (available the area equipped to the base camp and dedicated instructors), starting from € 200.00; exclusive from € 250.00.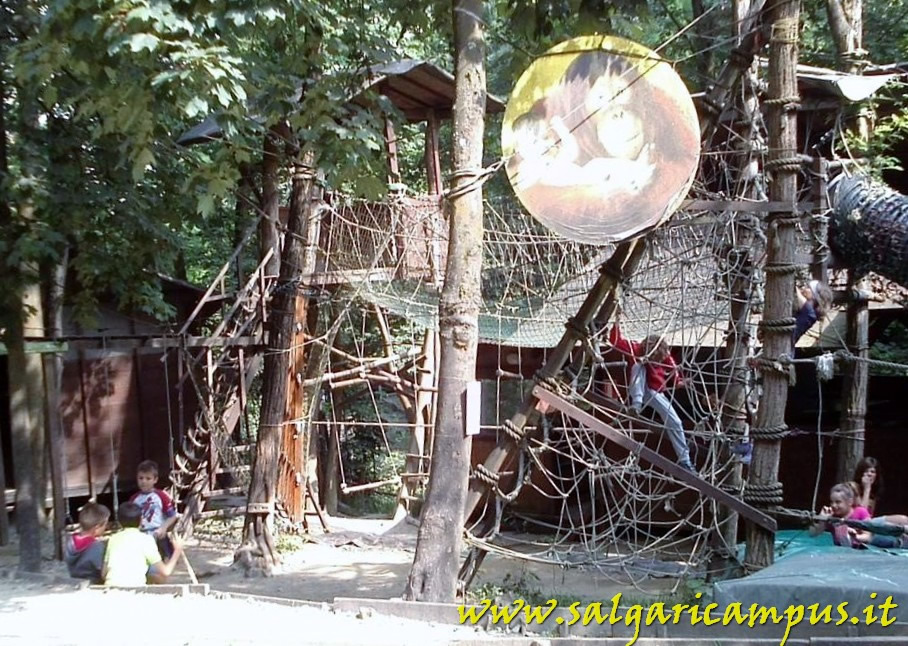 Allow us to do our work in the best possible way in order to guarantee your fun in complete safety: we kindly ask participants for punctuality, respect for the environment and correct use of the facilities.