The Salgari Campus is a Center of Human Ecology, Outdoor and Survival, a forerunner of its kind, for over 20 years a reference point for Outdoor in Piedmont.
Our Map: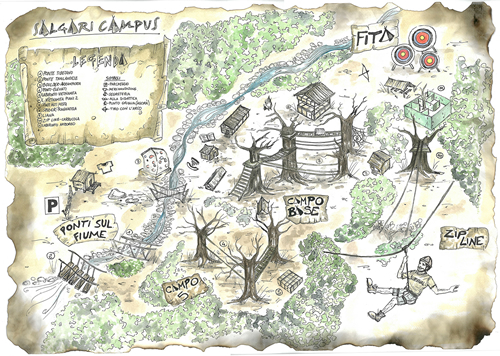 It covers a hilly and surprisingly wild area in the Rio di Reaglie valley, a place of inspiration for the adventure novels by Emilio Salgari (who lived nearby), although a few minutes drive from the center of Turin.
The Associations that belong to the F.I.S.S.S. (Italian Federation of Sports and Experimental Survival) operate at the Campus of which it is the operational headquarters. The leader Associtation is the ASD I.S.A. (International Survival Association) in collaboration with ASD A.S.E. (Ecodynamic Sport Association).
The I.S.A. Association (International Survival Association) for over two decades has been engaged in research, dissemination and animation on issues related to the relationship between man and the environment, within the framework of Human Ecology.
Our History:
Activities on 1983
Activities on 1987-1989
Activities on 1989
Activities on 2001
Activities on 1990-2006
Activities on 2004
Activities on 2004-2005
Activities on 2007
Activities on 2008-2015
Activities on 2010
Activities on 2011
Activities on 2013
Activities on 2014
Activities on 2014